-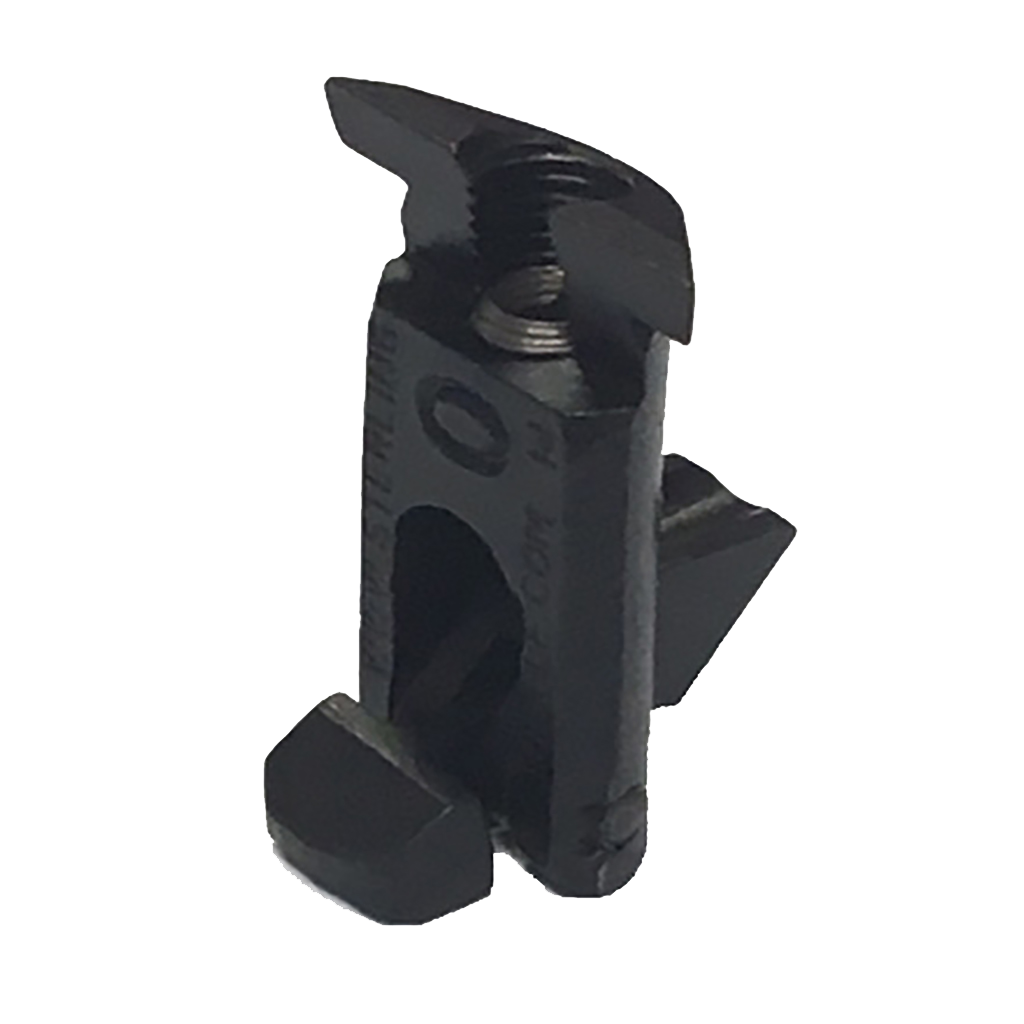 ---
Manufactured in the USA
Sterling Toggle Hooks are used in our honeycomb plate mounting system and are the industry's standard for locking and registering embossing and foil stamping dies into position.
Finishing specialists appreciate the ease and convenince of obtaining hairline die registration using toggle hooks. The combined forward and downward travel of the toggle hook locks the die firmly into place.  A ten-degree bevel is required along the perimeter of the die.
All components of the toggle hook are manufactured and assembled in West Babylon, NY.
Do not be fooled by cheap imitation toggle hooks that are made from castings.
Sterling Toggle Hooks
We take great care and pride in manufacturing process to ensure our customers are getting the highest quality hooks.
Our toggle Hooks go through special procedures for maximum strength and a long product life.  All sizes are stocked.
Standard Size-  Used with honeycomb chases with a thickness of .668"-.759"
(17mm-19.28mm)
Low Height Size- Used with honeycomb chases with a thickness of .540"-.668"
(13.71mm-17mm)
Standard Hooks
Low Height Hooks
Description
Number 0 Toggle Hooks
Narrow Margin Hook is used when less than 1/8" (3mm) margin is required

Standard:  Part #100-100
Low Height: Part #300-350
Number 1 Toggle Hooks
Standard Register Hook can be used most of the time

Standard:  Part #100-101
Low Height: Part #300-351
Number 2 Toggle Hooks
Register Hook - has a jaw width slightly larger than the No.1 hook, it's our second most popular hook

Standard:  Part #100-102
Low Height: Part #300-352

 

 

N/A

Number 3 Toggle Hooks
The No.3 is the same size as the No.1 hook except that the jaw thickness overall height is approximately .040" (1mm) smaller

Standard:  Part #100-103
Number 3E Toggle Hooks
Extended Jaw Register - This hook has a jaw length that is in between our No.2 and No.4 hook

Standard:    Part #100-104
Low Height: Part #300-354
Number 4 Toggle Hooks

Extra Extended Hook - used for locking up dies on honeycomb bases that do not use our standard hole pattern, such as a heated honeycomb base.

Standard:    Part #100-105
Low Height: Part #300-355
Toggle Hook Bodies Only


 

Standard # 0:  Part #100-112
Low Height # 0: Part #300-356


Standard # 1:  Part #100-113
Low Height #1: Part #300-357

Standard # 2:  Part #100-114
Low Height # 2: Part #300-358

Standard # 3:  Part #100-115
Low Height # 3: N/A

Standard # 3E:  Part #100-116
Low Height #3E:Part #300-359

Standard # 4:  Part #100-117
Low Height # 4: Part #300-360

Toggle Hook Assembly

These parts can be used as replacements, they fit both standard and low height hooks

A: Back Latch 
Part #100-107
B: Pin 
Part #374-0000
C: Bottom Latch
Part #100-106
D: Toggle Screw
Part #100-108
(Fits all size hooks except #0)
E: Toggle Screw :
Part #300-313
(Fits only #0 hooks)
---
Share this Product
---
More from this collection