-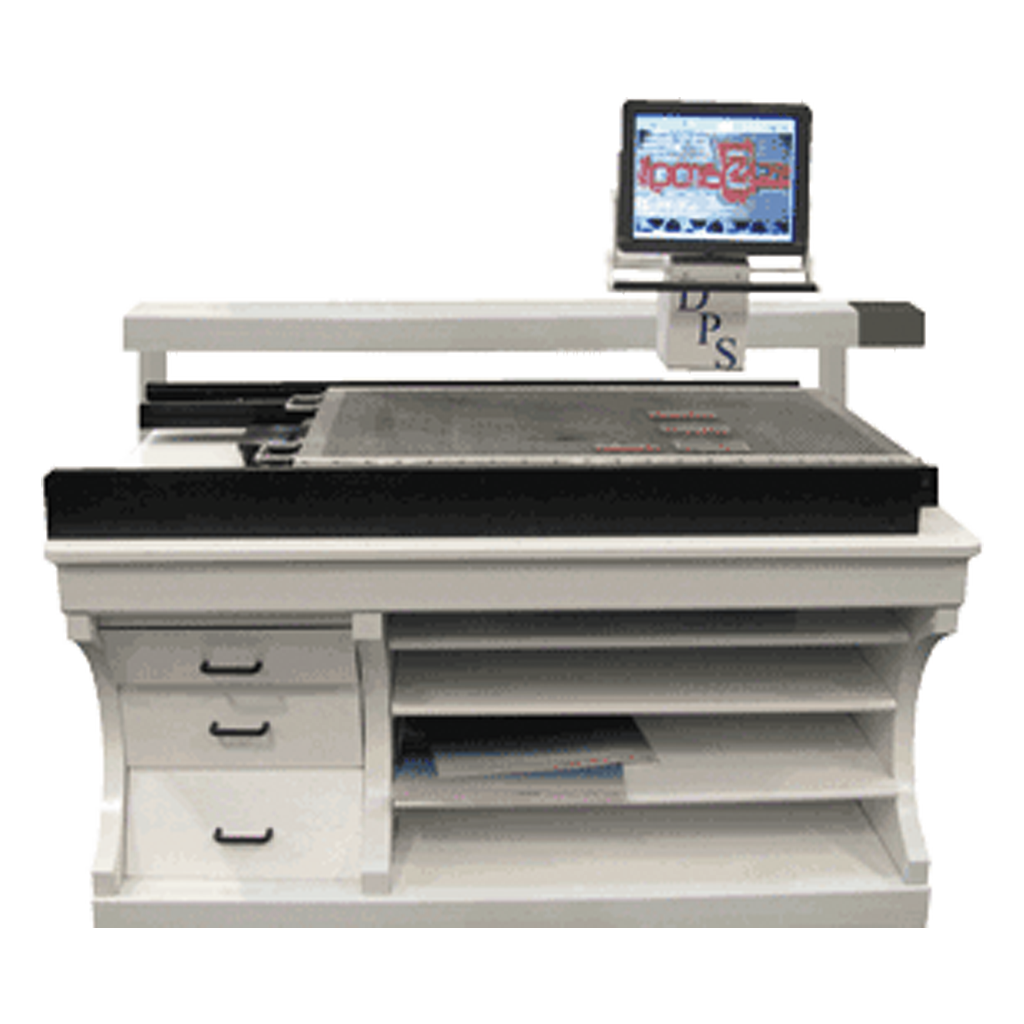 ---
Overview
The Die Positioning System (DPS) allows management to take control of their foil stamping and embossing production schedule. Imagine the luxury of having multiple honeycomb chases in queue that are press ready.
Our system allows operators to lockup and register hot foil stamping and embossing dies off press with extreme accuracy. The days of long make ready times and bumping dies are over.  Our customer's report a makeready savings of 40-70%.
Operation
The operator loads a digital or scanned sheet file into the DPS.  He/she is then prompted to enter the job information. Next, the DPS automatically calculates the thermal expansion of the chase and die. The touch screen then displays two overlay images-the background image of the digital file and the camera image of the die being registered.
The camera moves above the honeycomb work area to where the die will be positioned. The operator simply positions the die in place by using the touchscreen as a visual guide until the two images line up.
Simplicity
We have made tremendous improvements in the DPS. The touch screen has a user friendly interface similar to an IPAD or smart phone. This makes it very simple for anyone to learn and operate. The system features crisp, full screen camera images, with a sharp, high resolution quality. We can accommodate all honeycomb sizes.

Benefits of DPS
Board stretch & heat expansion are automatically compensated for and eliminated

Accurate positioning and alignment can be performed off-line at the inspection table

DPS is so simple, just a simple touch screen interface

The running cost of registering dies is minimal

Final die positions can be scanned from the honeycomb bed at the end of a job for comparison with initial settings

All you need is a PDF file of the print sheet with a foil layer

No digitizer required, saving a lot of space

Print management can determine the source of alignment problems accurately and quickly

Greatly reduces valuable operator and press time by efficiently registering the dies off press
Traditional Method (without DPS)
Manual setting of the dies is labor intensive, time consuming and requires significant amounts of trial and error on the press before final settings are achieved

Accuracy of control is limited by the skill and sensitivity of the individual operator

Manual setting of the dies requires the operator to perform the majority of the adjustments

Reference points are lost at the end of every job

Repeat orders have to be re-measured and aligned, wasting valuable press time

Board stretch & heat expansion require the operator to set the job on press
---
Share this Product
---
More from this collection